Established in 1960, Japan Air Filter began as a family business primarily focusing on delivering top-notch air purification products and well-received related quality products. Through a legacy of generations of excellence, today JAF has become a leading provider of extensive Air Filtration and Air Pollution Control Products & Solutions across the world. Driven by values of quality, reliability and sustainability, we are firmly committed to our mission of delivering reliable products for enhancing indoor air quality as well as odour, corrosion and pollution control.
Inspired by our founder's vision of creating products that are 'good for the people and good for the environment', JAF continually improves its product line through the latest technology and a keen emphasis on research and development. Over the years, we have forged a solid reputation by supplying industries and businesses around the globe with cutting-edge air purification products and services that consistently meet a wide range of needs.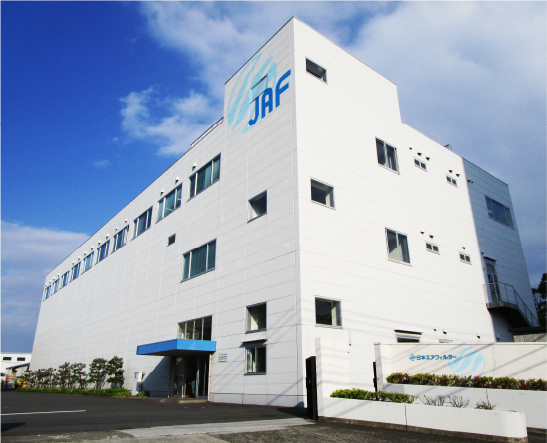 A Vision of Global Growth
As a rapidly growing organisation, one of JAF's core objectives is to expand its businesses beyond Japan. With hard work and much coordination, this goal came into realisation in 2015 with the opening of JAF's first overseas factory in Malaysia. This was then followed by the inception of JAF Singapore in 2016, JAF Thailand in 2017 and JAF Indonesia and JAF China in 2018.
Today, backed by world-renowned Japanese technology, JAF Malaysia aspires to become the industry's most trusted name for an all-encompassing range of air purification solutions. JAF continues to establish its foothold across Asia, with numerous sales offices in key markets such as Indonesia, Thailand, Singapore and China, as well as global distribution of products to Pakistan, Bangladesh, Middle East, Europe and more. By making our presence felt in more countries, we aspire to make quality air purification solutions more easily attainable and beneficial to every level of the society.
Factory
JAF is ISO 9001:2008 and ISO 13485:2003 certified with more than 60 years of experience in handling air filtration and air pollution control solutions. Our production line manufactures different types of quality clean Air filter products, for instance Pre-Filter, Medium High Efficiency Filter, HEPA Filters and ULPA Filter, Gas Phase Filter, Cleanroom Equipment and more to fulfil a broad range of evolving customers' needs. There are mainly 4 types of production lines which include Gas Phase production line, Cleanroom production line, Non-Cleanroom production line and Equipment production line.